iConnectMIDI4+ Preliminary Review - part 1

Introduction

It's finally arrived! It exists! It's here!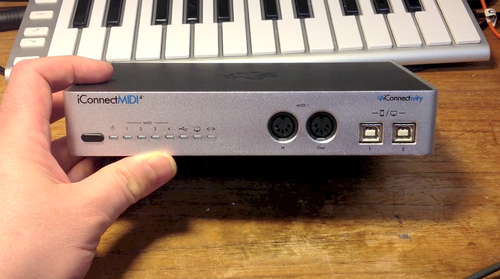 The long-awaited and anticipated iConnectMIDI4+ is not a myth as some have speculated. It really does exist and is now ready for order from various mainstream retailers.

As some of you who follow the blog here or our Youtube channel know, I have owned an iConnectMIDI2+ since they first came out and I have been delighted with the device as a means of connecting an iPad to a Mac or PC with bidirectional digital pass through audio and bidirectional MIDI, as well as DIN control of external MIDI devices. I have been eagerly waiting for the iConnectMIDI4+ and now that I've had a chance to play with one for this review let me tell you I am very very excited by this gear!

I like many of you have been looking forward to the iConnectMIDI4+ for a number of specific reasons also: the increased number of DIN ports, multi-iPad support, USB hub MIDI controller hosting and Ethernet connectivity, but let's take a look at the specs for a moment to get a side-by-side comparsion:
iConnectMIDI2+
iConnectMIDI4+
1 PC/Mac USB port
1 iPad USB port that will charge an iPad with the additional PSU
2 X in/out DIN MIDI
1 PC/Mac USB port
2 iPad USB ports, both of which will charge an iPad with the supplied PSU
4 x in/out DIN MIDI ports
1 USB hub host port for class compliant peripheral / controller connection for up to 8 USB controllers
1 Ethernet port for RTP MIDI connectivity providing 4 virtual RTP ports
 And here's a quick snapshot of the device information page from iConfig for the device.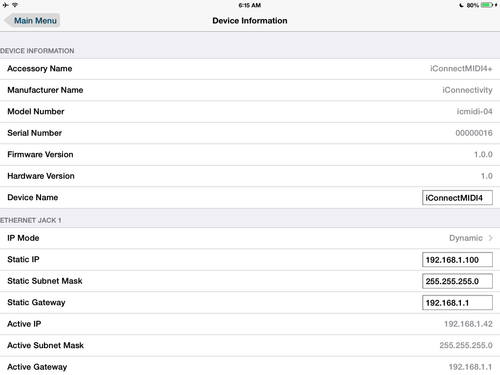 Oh the connectivity possibilities!

As a result of the increased connection options, the iConnectMIID4+ opens up a wide arena in terms of inter-device routing possibilities.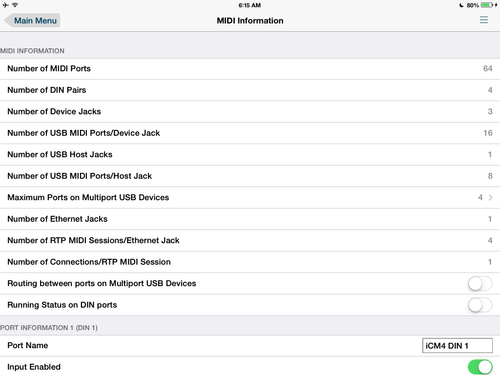 For example...

You can use the device with just a PC or Mac and a powered USB hub as a centralizing multiplexing control for external DIN MIDI peripherals from your DAW. Suppose you have, say, 4 or 5 MIDI keyboards / synths / drum kits / pad controllers, along with 3 or 4 DIN connected MIDI synthesizers, drum machines, etc. you can use the iConnectMIDI4+ to connect them all together.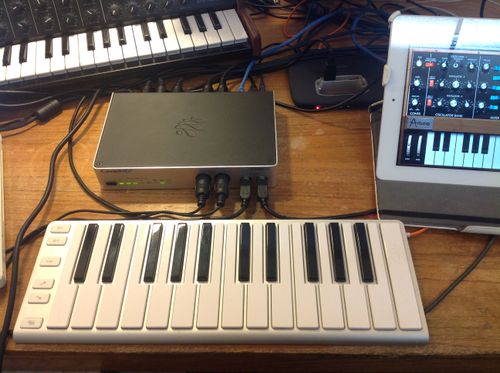 But that's not all! Owing to the powerful routing options inside the revamped and extended iConfig application, you can also connect peripherals without the need for a PC or Mac at all to host them; the iConnectMIDI4+ along with a powered hub can do that for you, and, you can set up hardwired port routings for your peripherals. In a live situation where you simply need control of various synthesizers from a number of different peripherals, this makes the iConnectMIDI4+ ideal!

But there's more here with the iConnectMIDI4+ than with the 2+ in terms of iPad connectivity too. Whereas with the iConnectMIDI2+, even though you can also set up the hard routing inside the device for MIDI control to / from the iPad and DIN ports, you really need an externally connected PC or Mac to host your MIDI controllers. That's no longer the case with the iConnectMIDI4+. Let's suppose also that you are beginning to use an iPad for doing your sequencing, say using Genome or some other excellent iPad MIDI sequencing application and you don't want to haul a laptop to a live gig. Now you can do that using the iConnectMIDI4+ natively.
I.e. in addition to the scenario I suggested above, you can also connect just an iPad to the iConnectMIDI4+ and bidirectionally sequence the MIDI from all the USB connected controllers as well as the DIN connected synths / drum machines etc. No PC required! And if you need to change the routing, you can do so using the (still) free iConfig iOS app.
An iPad 1 is more than capable of doing real-time MIDI control of multiple peripherals this way; now they are nearly being given away refurbished or 2nd hand in cereal boxes, you could pick one up for around $100 just to do your sequencing (assuming you have an app that you want to sequence with that will still run on iOS 5 - if not, you could pick up a refurb or 2nd hand iPad 2 instead - which will run iOS 7 perfectly adequately to that task also).

Moving on - you can now of course connect not one but two iPads at the same time.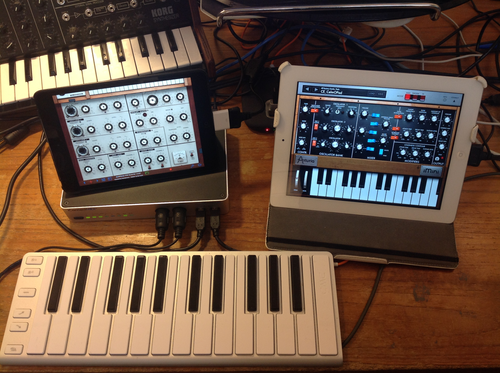 Each has access to bidirectional pass through audio and MIDI and both can talk to the connected devices. So, extending the scenario just posed - you could connect two iPads in a live situation, have one control half of your synths and USB controllers and the other control the other half. Or both have access to both. It's pretty amazing what this opens up in terms or possibilities!
It doesn't stop there. Of course you can also connect a PC or Mac as well. Now you have incredibly easy multiway bidirectional digital pass through audio and MIDI routing options that have no parallel anywhere else in the current audio world in a single low-cost device like the iConnectMIDI4+ to the best of my knowledge.
Not only can you route from the PC/Mac to / from each iPad (or how about one iPad and one iPhone?...) you can also - sit down for this one - route digital pass through audio between the two iPads. Wow!
Now, ... Audiobus 2 has just recently hit the streets (audiob.us) and it is a fantastic piece of enabling technology that allows you to set up multiple audio chains between apps inside an iPad - if you aren't using it you should be! :-) However, with increased app routing you are going to begin to tax even very capable iPad Airs at some point, and if you have lower specification iPads, you can now use each one to their respective optimum potential by setting up an Audiobus chain inside each one to whatever each can handle and then chaining the audio out from one into the audio in to another via the iConnectMIDI4+ directly.
Wow!
Did I mention Wow! .... ?
;-)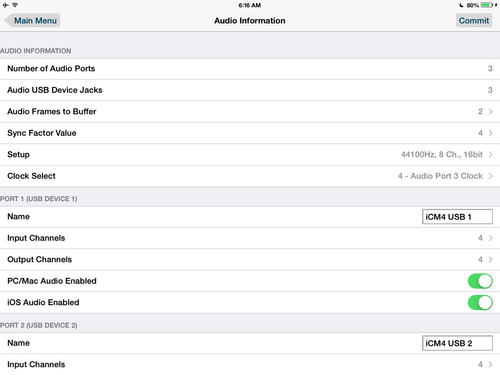 Let me tell you - you want this if you have multiple iPads or an iPad and a capable iPhone! And this all works with lower spec iPad devices as well. If you have a newer iPad with a lightning connector, you should be able to use an Apple lightning to 30 pin adapter just fine - I did in my test of the device. However, check in with iConnectivity to see if they will begin to supply direct connect lightning cables at some point too as some have experienced issues even with Apple's own adapters with the iConnectMIDI2+ (apparently a faulty batch from Apple according to the iConnectivity FB page).

The goodness doesn't stop there. Now, you also have the ability with the Ethernet port to connect to other wired and wireless devices. So, let's suppose you have a second Mac or PC as part of your rig and you want to control devices connected to that device from your "other" Mac / PC which is hosting your iConnectMIDI4+ . With the Mac, RTP MIDI is built in to MacOS MIDI routing and on a PC running Windows you can download RTP drivers to do exactly the same job.
The iConnectMIDI4+ shows up via the Ethernet connection as 4 virtual RTP ports, and, again, via the Ethernet port routing settings in the iConfig application, you can route the bidirectional MIDI to / from any one of the other ports - or multiple ports simulatenously. So, for example, you can have a MIDI controller - say a keyboard - attached to the iConnectMIDI4+ route its MIDI out via one of the virtual RTP ports using the Ethernet connection, to a VST running in a Mac or Windows-hosted DAW on a separate Mac or PC. You can also of course multiply the possibilities endlessly - so you can route MIDI in / out from one or both of the connected iDevices to / from one or multiple RTP ports to one or multiple Macs or PCs... Up to four of them! Just keep expanding your thoughts here!!!
Not only that - you can also wirelessly connect further iPads into this setup also for MIDI I/O. To make connecting iPads easier, iConnectivity have supplied the (free) netMIDI app - which although it has been available and functional as a standalone app for a while now, comes into its own when used with the networked RTP routing from the iConnectMIDI4+. Each of the ports shows up in the application on the iPad and you can then connect to one simply by touching the screen - no need for messing around with any IP addresses.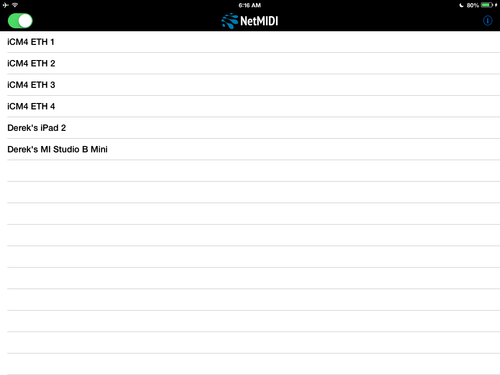 Did I mention Wow yet? ;-)

Operating performance

I tested the iConnectMIDI4+ quite extensively with a variety of setups including many of those I've highlighted above (I didn't play any live gigs using it though ;-) ). One thing I was careful to test particularly was what the latency looked like. I tested two forms of latency in particular - one where I measured the time from MIDI trigger inside a DAW on a MIDI track to the returned audio wave from an iPad being registered in an audio channel in the DAW. Accounting for the inherent latency of the DAW and aggregate, my timings suggest that the iConnectMIDI is not adding on average more than a couple of milliseconds of latency - 3 tops.
I also did a test using MIDI to RTP connection - back to MIDI via a network to test the RTP latency. Again - I found the same results - around 3ms. So, my take is that the iConnectMIDI4+ - like the 2+ - can be used as part of your audio and MIDI I/O setup without introducing any appreciable latency. This is very good news. (There had been other reports surrounding the 2+ on the web by third parties that had suggested the latency was huge - for a DAW setup anyway - but not only did I not find that with the 2+, I made a point of testing it with the 4+ and found the same thing - very low latency.) So, for me, no hesitation in using the iConnectMIDI4+ as part of my setup. Oh - and just to check out how well this all worked, I ran some tests with the iConnectMIDI4+ connected to a 1.8GHz Dual Core Macbook 2006 running Snow Leopard as well, running the latest Presonus Studio One Pro 2.6.2 as a DAW. Same results :-)

Summary
I highly recommend this device. (I highly recommend the iCM2+ as well! :-) ) It meets every expectation I had for it and more. I'm still exploring all the routing possibilities but it's already immediately useful in my rig and I expect it will only increase in usefulness as time goes by.

Next time...
OK. Keep watching the blog over the next few days for further review sections; I'll also send out notification updates on my Twitter feed (www.twitter.com/MusicInclusive) and Facebook page (www.facebook.com/MusicInclusiveLLC) with more details when a new review piece is posted.

Next time I'll pick this up with some more setup details.

Oh and check on the MusicInclusive Youtube channel and iConnectivity's own site (www.iConnectivity.com) over the next few weeks as well; I shall hopefully have some video tutorials prepared which will be available via the iConnectivity site shortly and which will go into each of the connection options in depth including live iConfig setup.

Keep on making music!

Derek Jones